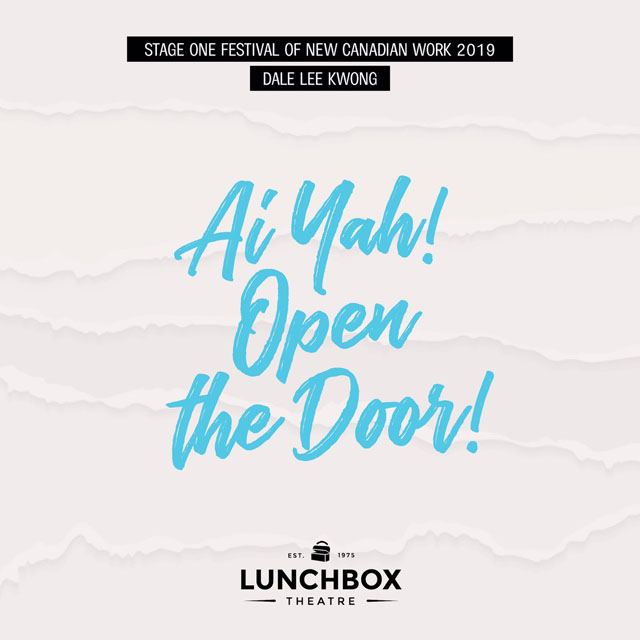 Dale Lee Kwong the playwright behind the very funny and highly successful Ai Yah! Sweet and Sour Secrets which ran at Lunchbox in February 2018 is part of this year's Stage One Festival of New Canadian Work at Lunchbox Theatre. You can check out my interview with Dale from February 2018 where we talked about the long journey her play took to go from page to stage by following this link: An Interview with Playwright Dale Lee Kwong: Ai Yah! Sweet and Sour Secrets
And you can catch a free reading of Dale's new play Ai Yah! Open the Door! this Friday at 6:00 pm at Lunchbox Theatre.
Ai Yah! Open The Door!
Hilarity and romance ensue when Jade Wong books a last-minute getaway, only to discover the cruise is all women. Suddenly, her questions about her own sexuality are front and centre in this wild "prequel" to the smash hit Ai Yah! Sweet & Sour Secrets!
CREATIVE TEAM
Dale Lee Kwong – Playwright
Trevor Rueger – Director/Dramaturge
Bianca Miranda – Jade
Jamie Matchullis – Jennifer
Mike Tan – Charlie
Rowena Romero – Lillian
***
In addition to Ai Yah! Open the Door there's another free reading of a new play this Friday at 12:00 noon by playwright Keara Barnes called Traveltheatrics.
Traveltheatrics
True tales of one woman's travels around the globe. From stories of tigers, ghosts, romance, dangerous drives, fairies, and family, Traveltheatrics is an adventure that ultimately reminds us that there is magic in the world.
CREATIVE TEAM
Keara Barnes – Playwright
Shari Wattling – Director/Dramaturge
Jamie Konchak – Keara
***
For more than 30 years, Lunchbox Theatre has been dedicated to the creation, development and production of new Canadian one-act plays, many of which have gone on to great acclaim after their premiere at Lunchbox Theatre. Audiences are invited to attend the FREE workshop readings and help shape these new stories for the Canadian stage.