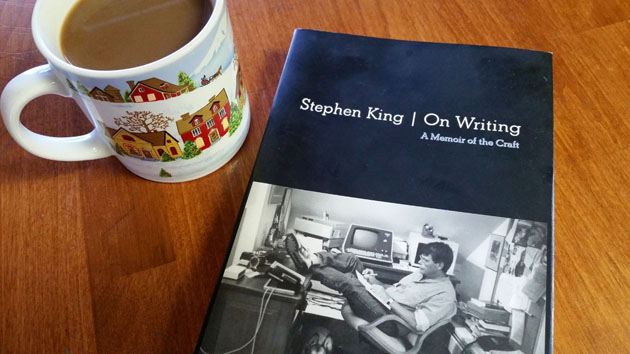 You learn by doing but you also learn by reading the work of others and by reading books about the craft. And if you're a writer then a good book to read because it's fun and it has some great advice about the writing process is Stephen King's On Writing – A Memoir of the Craft.
I got this book out of the library and read it six years ago and then wanting my own copy I put it on my Christmas list in 2012. You know the year the world ended – yet again – according to some silly theory attached to the Mayan Calendar. As if a calendar has any power over events of the Universe. It's nothing but a system of measurement. A system of measurement caught up in cultural myths. In our case a lot of Greek and Roman Gods. But that doesn't give it any power…but what if it did? What if a calendar actually contained the power to influence events? Then what? Then you've got a story to tell.
Anyway, I've read On Writing several times. It's a fun read because it's not a text book. It's more like sitting down with the man and having him talk to you about what he's learned and what he thinks about his craft and a few insights about his life and the things that have shaped him as a writer.
Do you know how close Stephen King came to throwing away Carrie? Carrie – his first major success. Carrie – the book that made his life as a writer possible. Are you familiar with the tale?
King had been working on Carrie but had tossed it in the trash because it was about girls. And what did he know about girls? So he trashed it. Gave up. It was destined for the landfill.
Until…
And I love this.
Until his wife, Tabatha, found it in the trash – covered in cigarette ash – and read it and realized what a great story it was. She told him to finish it and any questions he had about girls she could help him with because – she was a girl.
And so he finished it with her help and it got published. And he got a big chunk of change when the paperback rights sold and the rest, as they say, is history.
I love that story.
Did the Universe conspire to help Stephen King have his first major success?
If you believe in the writings of Paulo Coelo the author of The Alchemist you do.
I'm not so sure.
Maybe it was a host of demon spirits conspiring to make sure King would become a success so that he could tell their stories?
Whatever you believe and whatever the truth there are weird and unexplainable things that lead us to success or failure. Who knows what forces are at work in our favour or against us – but one things for sure – success only comes if you do the work. And doing the work means learning your craft.
So if you're a writer add On Writing to your Christmas list and if you have a writer in the family this is a great gift. And remember, as of today, there are only seven shopping days until Christmas. Better order now or better yet visit your local bookstore and grab a copy.
In the meantime here are a few links to some of my own thoughts about writing:
Something Bad In life and in fiction the bigger the risk the bigger the consequences. That's dramatic. That's interesting. That's compelling.
Hungry Characters We don't just hunger for food – we hunger for love, understanding, power, money, knowledge, and happiness.
Plot is Character Action Plot is based on character action. Nothing happens unless your characters act. That's true in story and it's true in life.