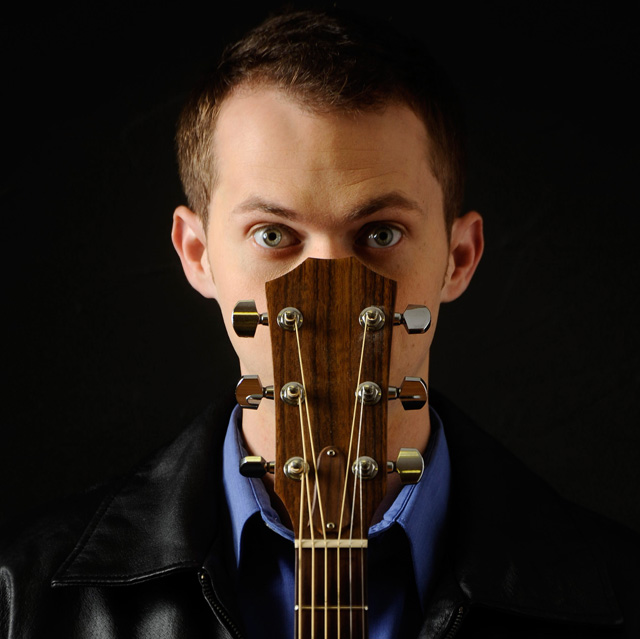 6 Guitars is a one man, six character, tribute to music, with plenty of laughs and lots of heart.
The one man standing on stage playing six characters and six different styles of music is Chase Padgett. Chase is a multi-talented musician, actor and story teller who switches effortlessly between this cast of diverse characters as they tell their stories and play their kind of music.
There's 87 year old blues guitarist Tyrone; heavy metal rocker Michael; country loving Rupert; jazz guitarist Wesley; classical guitarist Emmanual; and Peter who just loves to sing and play folk music.
Who wouldn't want to see that show? I've seen it twice. Once at the Calgary Fringe back in 2013 and then again in 2015 when Chase performed his show at the Bert Church Theatre in Airdrie. And now, I'm happy to report, 6 Guitars will be at Lunchbox Theatre in Calgary from January 9 to 28th as part of One Yellow Rabbit's High Performance Rodeo.
The good news is I don't have to wait until the show opens to recommend it. Like I said, I've already seen it – and I'll be seeing it again. In fact, I've already got my tickets and I've been hounding some of my friends about going to see this show for some months now because – well – it's just that damn good!
And I'm not the only one who thinks so. Since 6 Guitars premiered at the Orlando Fringe in 2010 it's been winning awards, getting rave reviews and selling out.
Jim Murchison of the Charlebois Post said, "The writing is terrific. The storytelling is personal and brilliant. It is great fun. With a shift in posture or a change in the eyes Padgett becomes a completely different character in an instant and he can capture the soul of music in his guitar and voice as well."
Brad Oswald from The Winnipeg Free Press said, "Talk about hitting all the right notes — this energetic and exhilarating solo show by Portland, Ore., musician-actor Chase Padgett is a jaw-dropper on every level. The acting is superb, the stories are smart and funny, and the music is flat-out stunning. All the right notes, indeed."
So if you want to see a terrific show that will make you feel good about life I can't think of a better way to start 2017 than going to see 6 Guitars with Chase Padgett at Lunchbox Theatre.
Well, winning the lottery would be a pretty cool way to start 2017 too, but next to winning the lottery I can't think of a better way to start 2017 than going to see 6 Guitars at Lunchbox Theatre from January 9th to 28th.
Unless, of course you could build a functioning fusion reactor and solve the world's energy problems. I mean that would be an amazing way to start the new year, but still – next to winning the lottery or building a functioning fusion reactor I can't think of a better way to start 2017 than going to see 6 Guitars at Lunchbox Theatre during the High Performance Rodeo.
6 Guitars
Performed by Chase Padgett
Written by Chase Padgett & Jay Hopkins
Directed by Jay Hopkins
6 Guitars additional Tour dates 2017
February 4, White Planes Performing Arts Centre – White Planins NY
March 23, The Foundation Performing Arts Centre – Spindale NC
March 24, Ansonia Theatre – Wadesboron NC
April 6-9, Berman Center for the Performing Arts – West Bloomfield Township MI
May 4-6, The Long Center, Austin TX
May 12 & 13, The Alley Theatre, Houston TX
May 16, Greenville Municipal Auditorium Greenville TX