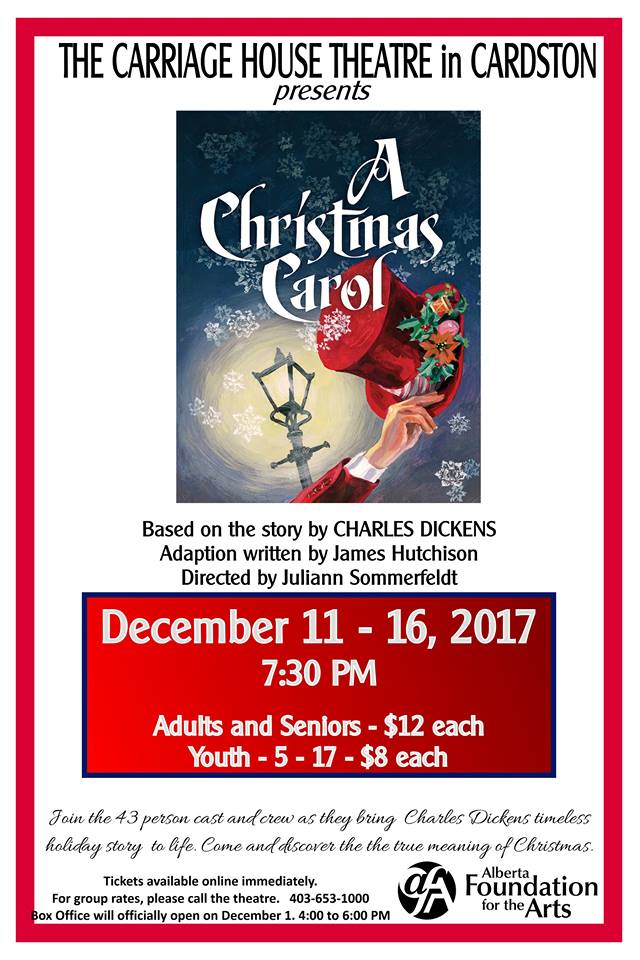 "But Uncle I have always thought of Christmas time as a kind, forgiving, charitable time. It is the one time of the year, when men and women open their hearts and think of all people as fellow passengers to the grave, and not as another race of creatures bound on different journeys. And therefore, though it has never put a scrap of gold or silver in my pocket, I believe that it has done me good, and will do me good; and I say, God bless it!"
***
And so do I! That's Fred talking to his Uncle Scrooge about why he values Christmas so much. Christmas continues to be a time of celebration, reconciliation and compassion, and so I'm pleased to announce that my adaptation of A Christmas Carol by Charles Dickens is being given its world premiere at the Carriage House Theatre in Cardston, Alberta from December 11 to 16th, 2017. Tickets are just $12.00 for adults and $8.00 for youth and can be purchased on-line at The Carriage House Theatre website or at the theatre box office.
And at that Scrooge approved price it would be a real humbug to miss it, don't you think!
***
There are so many wonderful and inspiring stories to enjoy this time of year. It's a Wonderful Life starring Jimmy Stewart and Lionel Barrymore is one of my all-time favourites. And I never miss a chance to catch The Bishop's Wife staring Cary Grant, David Niven and Loretta Young. And of course no Christmas would be complete without a telling of Charles Dicken's classic tale A Christmas Carol.
When I sat down seven years ago, this very Christmas, to write my own adaption of A Christmas Carol, I discovered that I didn't really have anything new to bring to the story, so I decided to write another play instead called What the Dickens!
What the Dickens! is a play in the tradition of Noises Off by Michael Frayn or Moon Over Buffalo by Ken Ludwig. It's basically a play within a play and in this case it's about the Pine Tree Player's disastrous production of A Christmas Carol.
But as a result of working on that play I had spent a lot of time with the text of A Christmas Carol and I gained a lot of fresh insights into the story and so once I had finished What the Dickens! I was finally ready to begin writing my own adaption of the original story.
One of things I wanted to do in my version of A Christmas Carol was show how Scrooge was shaped into the man he became. We all live in societies and all societies influence and shape the values and opinions of its members. So, I've expanded the role of Jacob Marley, which was Scrooge's business partner and mentor, and I've added another business associate of Scrooge's named Mr. Bentley in order to illustrate how Scrooge was shaped into the man he became and not alone in his disdain for Christmas.
As Fred, Scrooge's nephew says, "There are those who see Christmas as a waste of time and energy and my Uncle Scrooge was not only a member of that tribe but in all likelihood their loudest cheerleader and most ardent supporter. He hated Christmas. He hated anything that did not make him richer and so he hated Christmas most of all."
The production is being directed by Juliann Sommerfeltd who says that A Christmas Carol is a story about hope. "We all have 'Scrooge' like moments and so that makes him a relatable character whom we pity. His overnight transformation gives us hope that we can alter our own bad habits."
"The reason I love the story so much and keep coming back to it is because I love the opportunity it shows that people have a second chance. There's so much depression in the world that being able to realize that there is another day and that you can write on a brand-new page tomorrow and that no matter where you've been you can turn things around and start over is an important message."
"Also, watching Fred's kindness to his mean Uncle inspires hope that our own kindness can ignite change in the ones we love the most. All that, and a Christmas story as well."
Over the year's Scrooge has been played by an assortment of actors including Alistair Sim, George C. Scott and now here in Cardston by Peter Hague. Juliann says she chose Peter because, "He has the ability to give Scrooge the edge he needs at the beginning of the play and then end the play with the audience smiling at Scrooge's bouncing enthusiasm over his changed ways. He goes from bear to teddy bear and you just want to hug this teddy bear of a man."
Peter says that, "There's some Scrooge in all of us and that's why this time-honoured character is so compelling. Wealth is very important to Scrooge because he feels it brings him respect and power in his community."
As Scrooge says to Mr. Harrington who has come to Scrooge's office on Christmas eve asking for an extension on his loan, "You may find me cold and unfeeling sir, but I would venture to say I am a man of my word; a man whose word carries weight; a man whose word allows him the ability to strike a deal and back it up with his signature. My signature is worth something. Yours it would appear – if you continue to treat your financial obligations and business dealings in this manner – will soon be worthless."
"Many people in this world, like Scrooge, are too self absorbed to feel sympathy for others because they evaluate life as the world affects them instead of how they might affect the world." says Peter. "It's not until Scrooge sees life from the perspective of others that he has an epiphany that makes him feel that he has missed the mark. The "mark" being people, love and the relationships built in life. As audiences watch the show I hope they will consider what might be amiss in their lives and make changes that will make their lives and the lives of their fellow men more fulfilling."
"The Carriage House Theatre," according to Alonna Leavitt, Managing Director of the Carriage House Theatre Foundation, "is an integral part of the Cardston Community."
"For some people, it's the place they go to see their children and grandchildren perform in the school choir concert. For some, the Carriage House Theatre is the place they take their family to attend a movie. And then many people look forward to seeing the next live theater production – whether it's a Summer Theatre show, a Junior High production or a Community Theatre production. And for many people, the theatre becomes an extension of their home where they feel safe. They involve themselves on the stage or behind the scenes in a production role and feel satisfaction and joy from that experience."
"When a production such as A Christmas Carol is presented – where the cast and crew are all members of the community, the community spirit and enthusiasm is exciting. The Carriage House Theatre is a happening place for a small community like Cardston. We are so fortunate and feel so blessed to have this facility in our town."
Dr. Robert Russell says the The Carriage House Theatre is the result of a dream that started thirty years ago when he along with two other business partners bought the local Cardston movie theatre, The Mayfair, in 1990. The Mayfair was completely gutted and renovated and reopened in 1992 as a 333 seat live theatre and movie venue. Dr. Russell's two partners dropped out early and he's had the whole thing for the last twenty-eight years. "The theatre is here to serve people and to educate, enrich and enjoy. And when we talk about educate we're not just talking about the mechanics of theatre production but to educate people to think and think seriously about what they're seeing."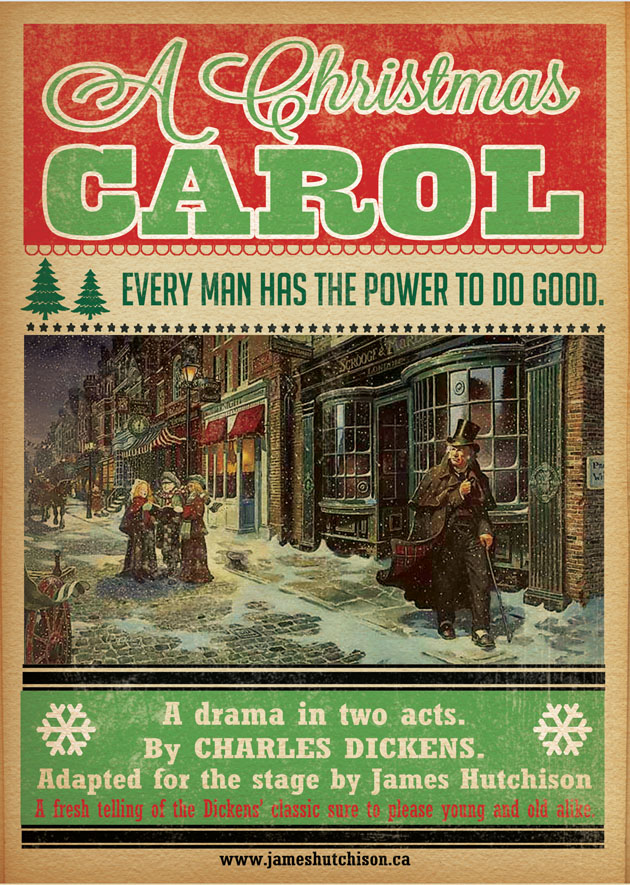 "In A Christmas Carol you have Scrooge who has wealth and materialism but no spirit. And if I can – with my limited means – present a story about change and the transition to a more Christ like type of attitude maybe people will leave the theatre with some idea of incorporating away from materialism and money, in their own lives, which are the two main things that drive a secular society. That's what A Christmas Carol is – Scrooge becomes a Christian. He transitions from a miserly old unhappy man and finds joy by extending himself and his resources to other people – which is the very premise of Christianity. To me that's the biggest thing. My whole premise in my life has been service to other people. I was a physician and my whole attitude of being a physician was to serve my fellow man with skill and expertise to make their lives longer and better."
Scrooge echos Dr. Russell's premise when he says, to his nephew Fred, at the end of the play, "You're right. Christmas is a kind, forgiving, and charitable time. A time when men and women open their hearts and think of their fellow man. A time for mercy, charity, and benevolence. And so, in the memory of your dear mother, I will honour Christmas and keep it all the year – and I say along with you, God bless it!"
And so, this Christmas, might I suggest, you gather up the family and friends and head on over to the Carriage House Theatre and catch this fresh, fun and lively adaptation of A Christmas Carol where you'll meet Mr. Bentley, learn all about the letters Scrooge wrote to his sister Fan, and find out who Mr. Newbury is. You'll still find all the ghosts of Christmas Past, Present, and Future along with Tiny Tim, Bob Cratchit, the Ghost of Jacob Marley, Old Fezziwig, Scrooge's nephew Fred, and the love of Scrooge's life, Belle. There are some new scary bits, a few good laughs, a tender moment or two and some surprises! It's a fresh take on an old tale sure to thrill young and old alike.
***
CAST OF CHARACTERS
Peter Hague as Ebenezer Scrooge
Rob Crawford as Mr. Bentley
Mike Morphis as Bob Cratchit
Grant Comin as Fred
Blake Bevans as Mr. Granger and the Headmaster
Ben DeVuyst as Mr. Harrington and a Business Man
Levi Mason as Mr. Murdock and Old Fezziwig
Luke Credd as a Poor Boy and Cousin Herb
Sawyer Pawlenchuk as Mr. Newbury, Topper and Thomas
Esther Leighton as Mrs. Dilber
Darren Cahoom as Ghost of Jacob Marley
Candace Perry as the Ghost of Christmas Past, Rose and Caroline
Max Bevans as Scrooge as a young boy and Belle & Dick's Child
Brad Peterson as Scrooge as a young man
Ellandra Leighton as Fan and Fezziwig's Child
Jennica Williams as Mrs Fezziwig
Madisyn Bevans as Fezziwig Child and Caroler
Emma Schneider as Fezziwig Children and Belle and Dick's Child
Mike Devuyst as Jacob Marley and Old Joe
Cassidy Duce as Belle
Michael Holthe as Dick Wilkens and a Business Man
Jack Crawford as Belle and Dick's Child, Ignorance and a Boy on the Street
Emma Quinton as Belle and Dick's Child and Want
Emma Bevans as Belle and Dick's Child
Asa Verdon as the Ghost of Christmas Present and Spirit
Marie Morphis as Mrs Cratchit
Isaac Morphis as Cratchit child and Fezziwig Orchestra
Alexi Morphis as Cratchit child and Fezziwig Orchestra
Josh Morphis as Cratchit child and Fezziwig Orchestra
Julie Anne Morphis as Cratchit child and Fezziwig Orchestra
Adam Morphis as Cratchit child and Fezziwig Orchestra
Nathan Morphis as Tiny Tim
Ashtyn Lybbert as Emma
Dominic Caravaggio as the Ghost of Christmas Future
Anica Baff as a Business Woman
Daniel Atwood as a Spirit
Synevie Wilde as a Spirit
Shelby Robson as a Spirit
Capri Powlesland as a Spirit
Vicky Powlesland as a Caroler
Mika McCarty as a Caroler
Brianne Watson as a Caroler
Savannah Hunter as a Caroler
PRODUCTION STAFF
Producer – Alonna Leavitt
Director – Juliann Sommerfeldt
Musical Director – Alonna Leavitt
Stage Managers – Samantha Atwood & Eden Atwood
Lighting Design – Jim Fletcher
Costumes – Val Jensen & Alonna Leavitt
Costume Construction – Doreen Card, Marina Leavitt, Sheila Hague, Janet Crapo, Darren Cahoon
Set Construction – Don Pierson
Set Painting – Janet Mein, Esther Leighton, Josh Creason, Paige DeVuyst, Levi Mason, Anica Baff
Box Office – Norma Reeves
Lighting Technician – Evy Schnoor
Make-up & Hair Design – Dalys Fletcher
Make-up & Hair Assistants – Kim Schneider, Tonnia Watson, Lacey Quinton, Teagan Perry, Ivy Schnoor, Katia Van Dysse, Beth Holthe, Krystin Bevans, Emma DeVuyst
House Manager – Debbie Fletcher
***
The Carriage House Theatre: The Carriage House Theatre has been providing the town of Cardston and Southern Alberta with live family oriented entertainment for more than twenty-five years. The Theatre produces a regular season of plays as well as its popular summer musical festival while providing opportunities for talented local youth to participate in live theatre productions.
***
The Alberta Playwrights Network: The Alberta Playwrights' Network exists to nurture Alberta playwrights and provide support for the development of their plays. APN promotes Alberta playwrights and plays to the theatre community, while building and fostering a network of playwrights through education, advocacy and outreach. A Christmas Carol was partly developed and workshopped through the Alberta Playwrights Network Wordshed Program in 2015 with the participation of Trevor Rueger, Laura Parken, Roberta Mauer-Phillips and Julie Orton.
***
Interviews have been edited and condensed for clarity.
Background information for this post included the article, Yesterday Once More, by James Frey in the summer 2005 edition of Lethbridge living magazine.